Coyotes of the Red Rocks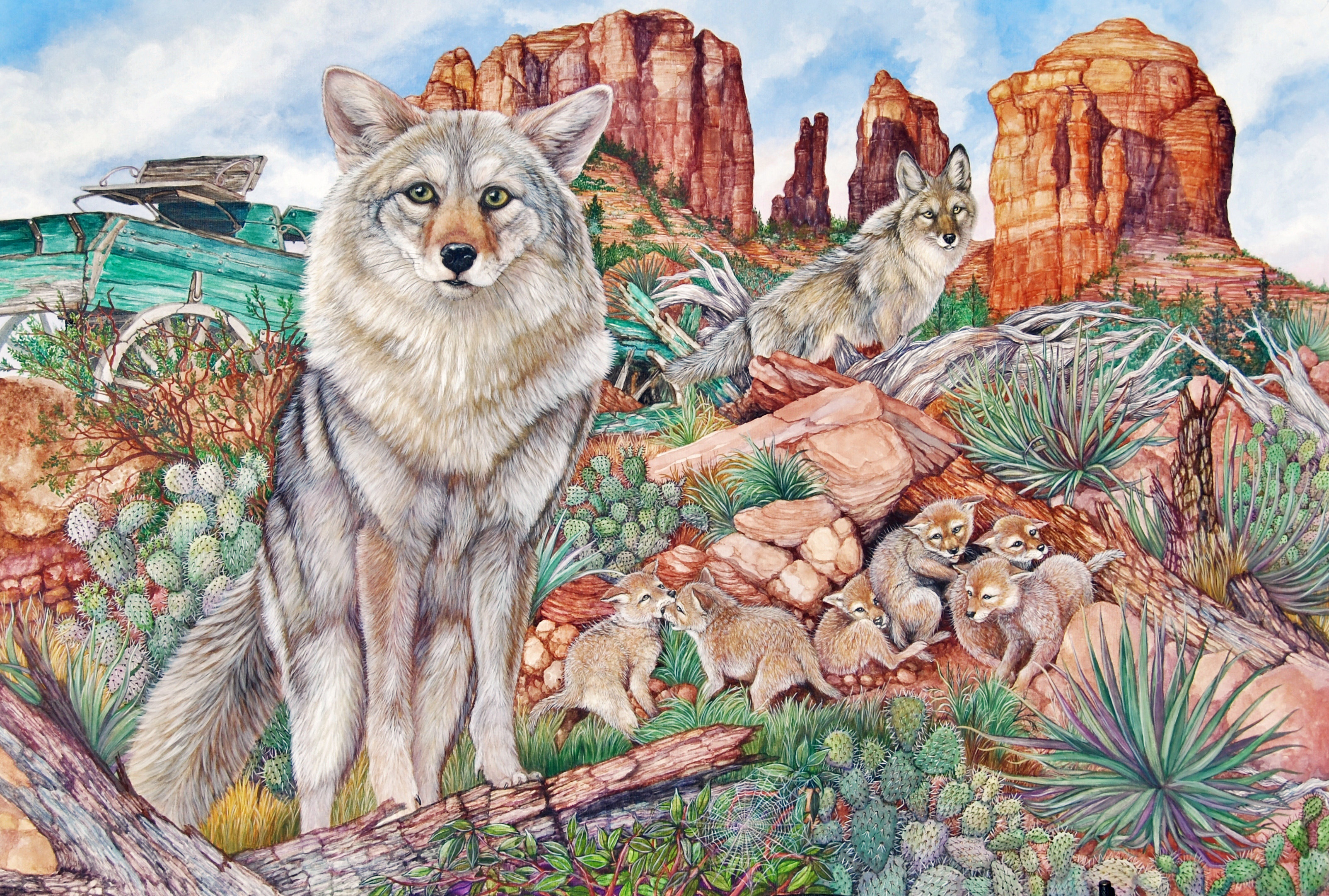 This is a painting of a Coyote family that lived in the mountains behind our home. We were able to watch the growth of the cubs and the movement of the family in our area. They have since moved on with their own families . We do see Coyotes from time to time and like to believe these are the same ones.
Overall size 34" x 26"
Image " 26" x 19"
$3500

TRES LOBOS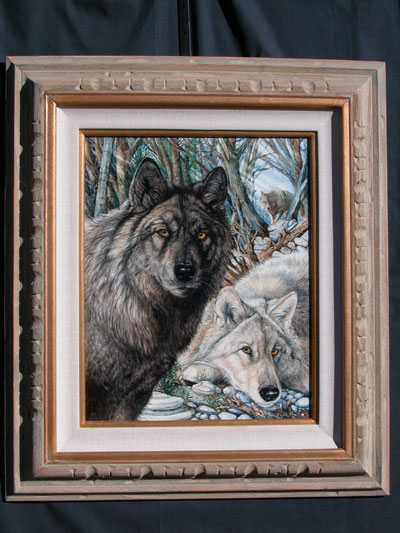 The alpha wolf looks out over his Winter domain

Scratch-board Watercolor,painted on clay-board then scratched with a surgical blade
Framed 28" by 32"
Image size 16"by 20"

$3750.00

WOLF FAMILY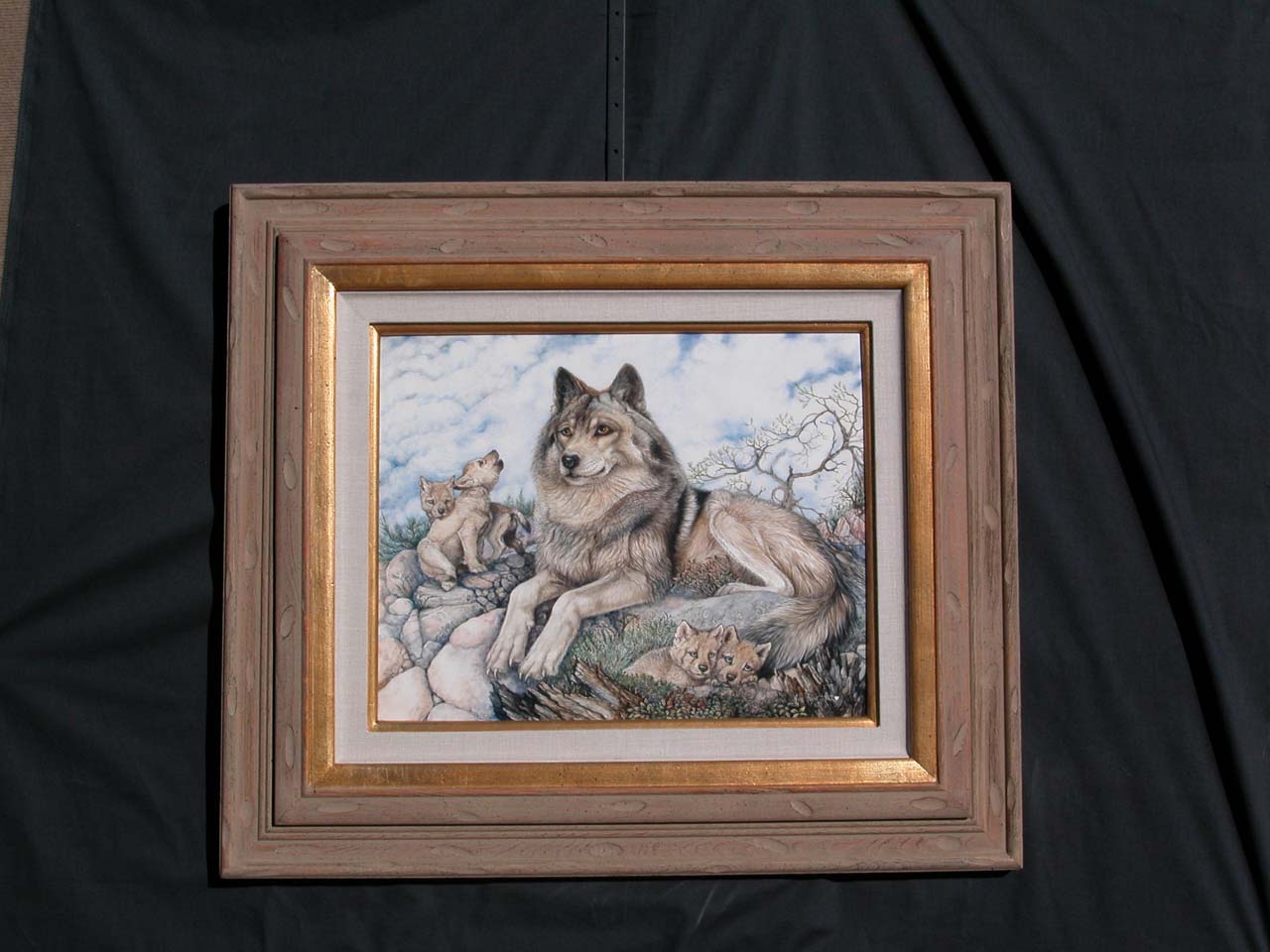 This is a Scratch-board Watercolor. Clay-board painted and then etched with a surgical blade.
Look for the wold heads in the clouds and trees
Overall size 28" x 32
Image 16" x 20"
$ 3750

Lonesome Ben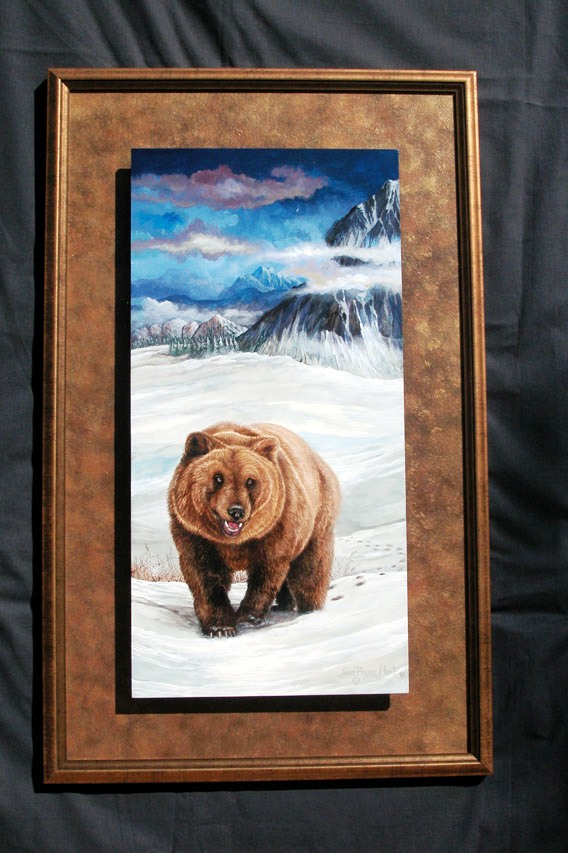 Ben the bear is on a stroll in the Rocky Mountains after the first snowfall of Winter.
Acrylic on panel 22" x 34"
Image 12" x 24"
$1250

ELK COUNTRY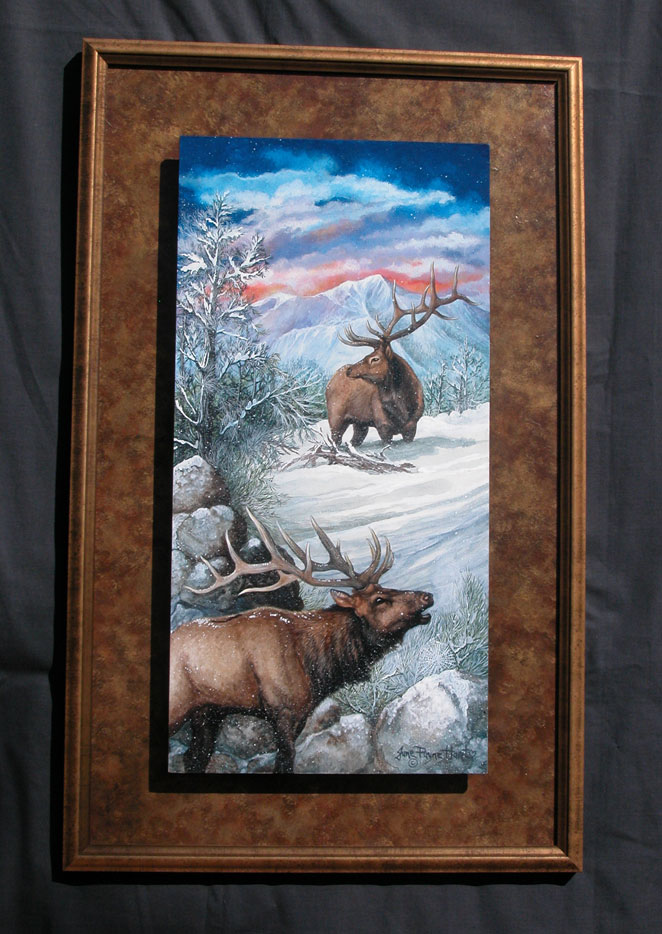 Rocky Mountain Elk in their winter wonderland.
Acrylic on panel 22" x 34"
Image 12" x 24"
$1250

Cat's with a view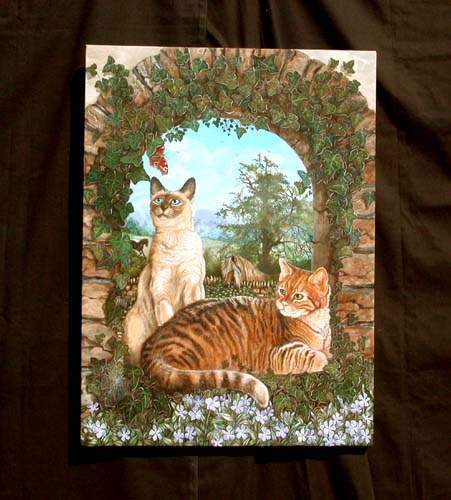 These cats were painted in my home in Cornwall England.
The site is part of a 16th century church grounds with Cornish ponies in the background'
Acrylic on canvas 24' x 36"
$ 1750

DEER CANYON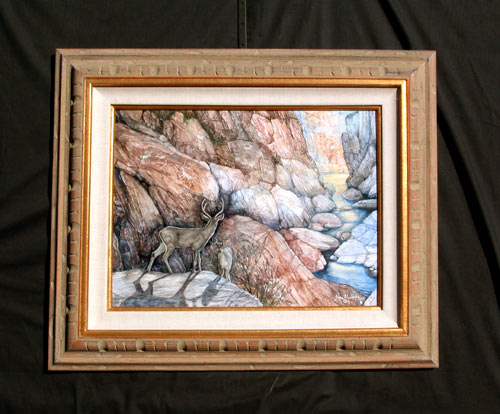 A Buck Elk and his mate watch a bloon landing in the canyon.
Created with torn paper and acrylic & gouache paint
The art work was inspired by a hot air balloonist friend who landed in a narrow canyon in Arizona.
Look for the petroglyphs on the rocks.
I was once a crew member for this master balloonist.

Collage Framed 28" by 35" (Image 18: by 24")
$1200

ART OF ANCIENT ONES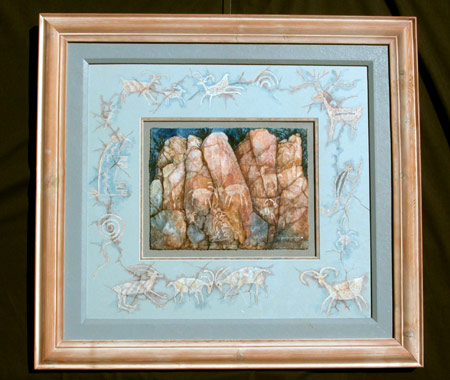 A Petroglyph painting from a site near Sedona.'

Acrylic hand painted mat with acrylic mixed media painting .
Mixed media/collage Framed 34" by 32"
$1500

ROCK ART IV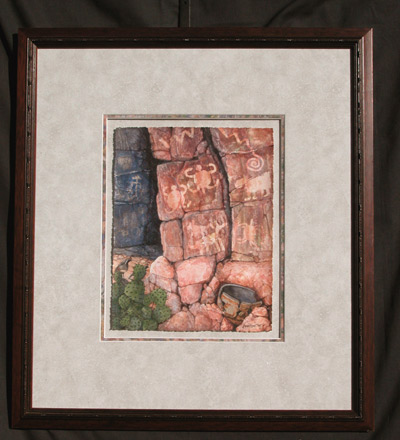 Rock Art I
Petroglyph near Sedona
Collage aand acrylic on board Framed 24" by 29"

$1650

Crow Mother
Crow Mother Katchina
Acrylic on board with hand painted liner
Image size 12" x 18"
Overall size 19" x 25" $1000

BLONDE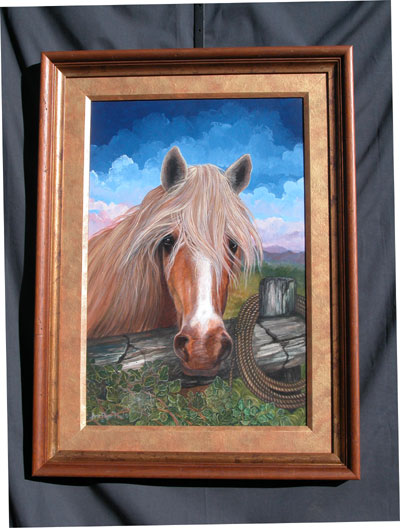 $1500.00




Hondo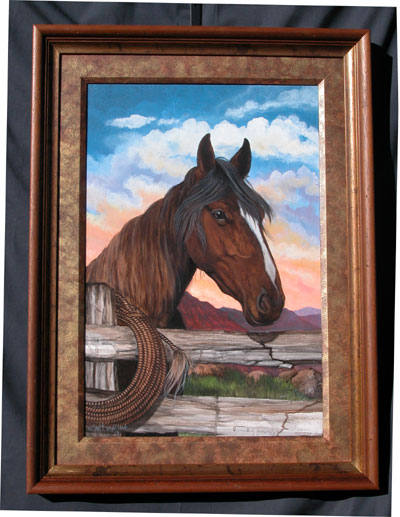 $1500






Five of a Kind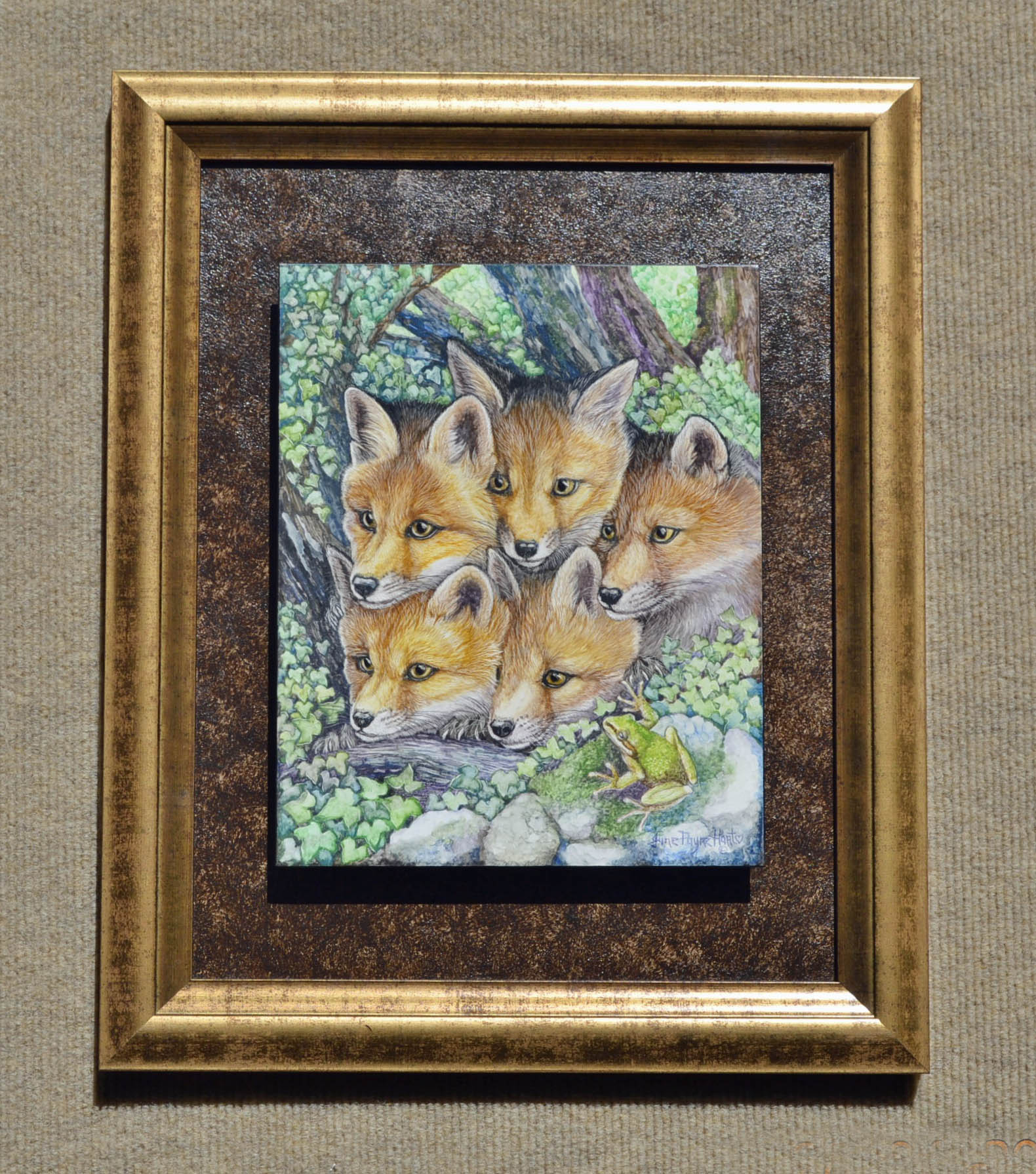 Five English foxes hiding in English Ivy.
Acrylic on board 12" x 15 1/2"
Image size 8" x 10"
Hand painted liner
$395.00





Eagle of the Canyon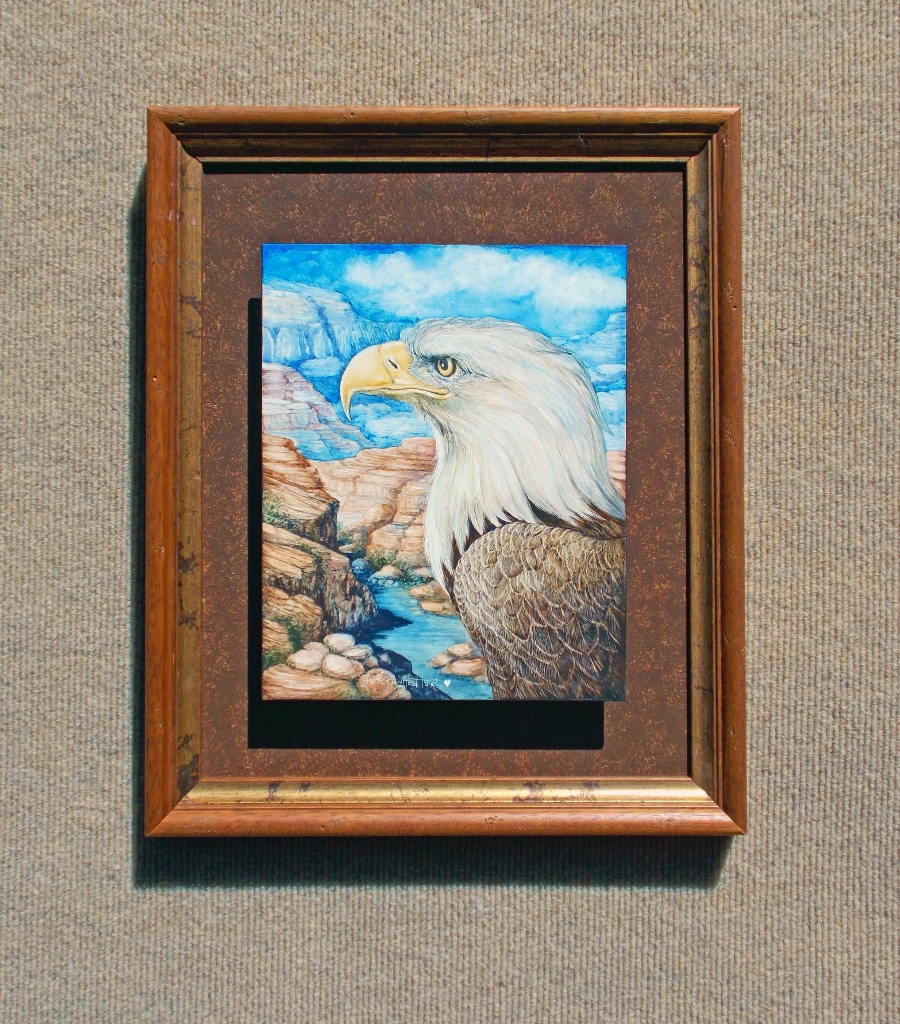 Acrylic on panel
Framed size 12" x 15"
Image size 8" x 10"
Hand painted liner

$495




Coyote's new Friend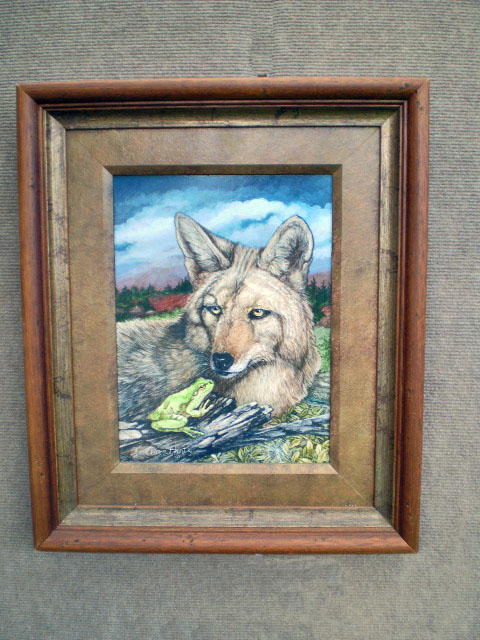 Acrylic on board 14" x 18"
Image size 8" x 10"
Hand painted liner
$395.00




Rickey's New Friend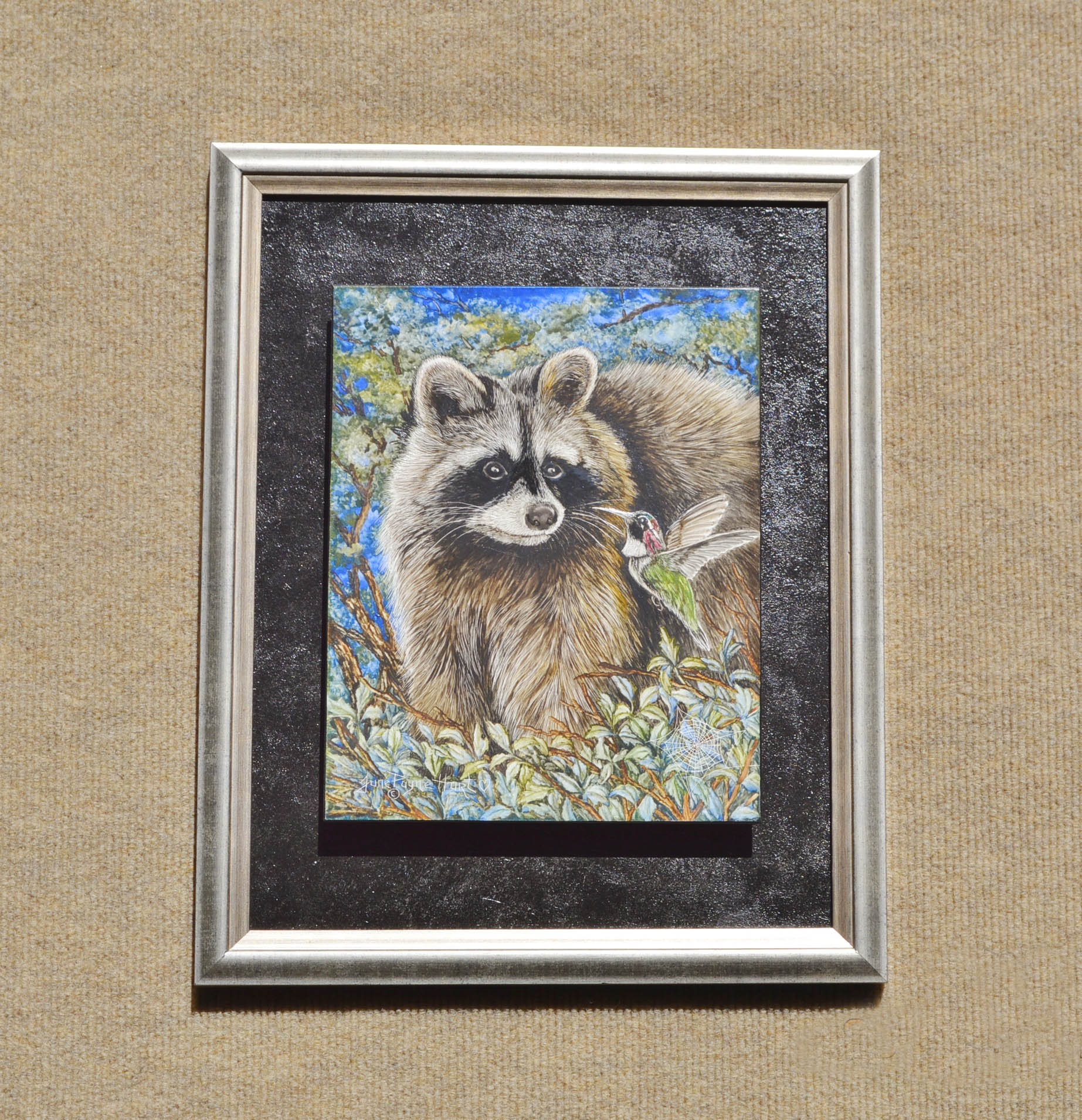 Acrylic on board 12" x 15 1/2"
Image size 8" x 10"
Hand painted liner
$395.00




Red Rock Bobcat and Friend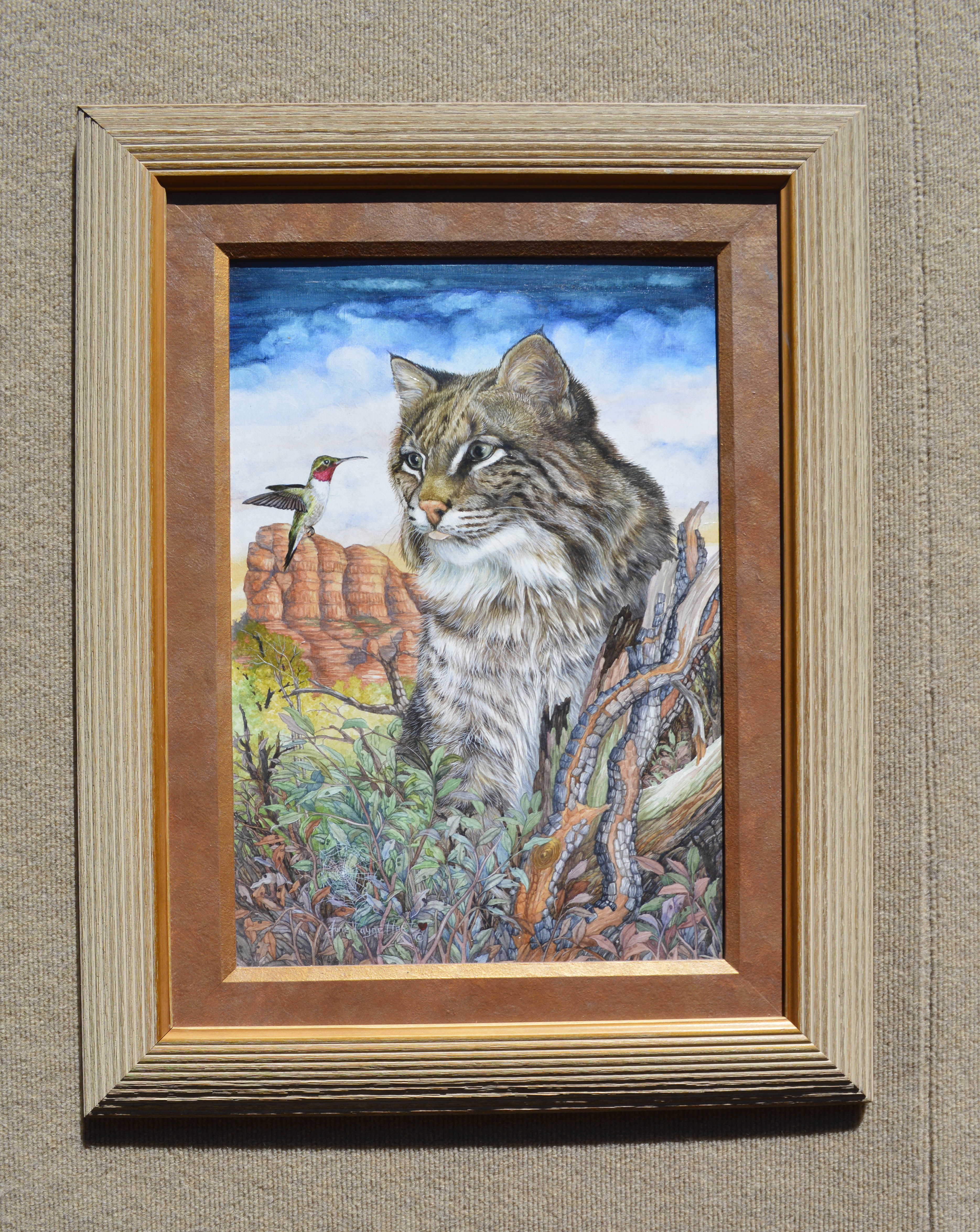 This Arizona Bobcat is often seen along the many trails of the Sedona Red Rock Country. This fellow was spotted in the dry wash the runs between our studio/gallery and our home.
Painting Medium: Acrylic on board
Size : 22 1/5" by 28 1/5" (Image 14" by 20")
$ 1500.00

Young Winston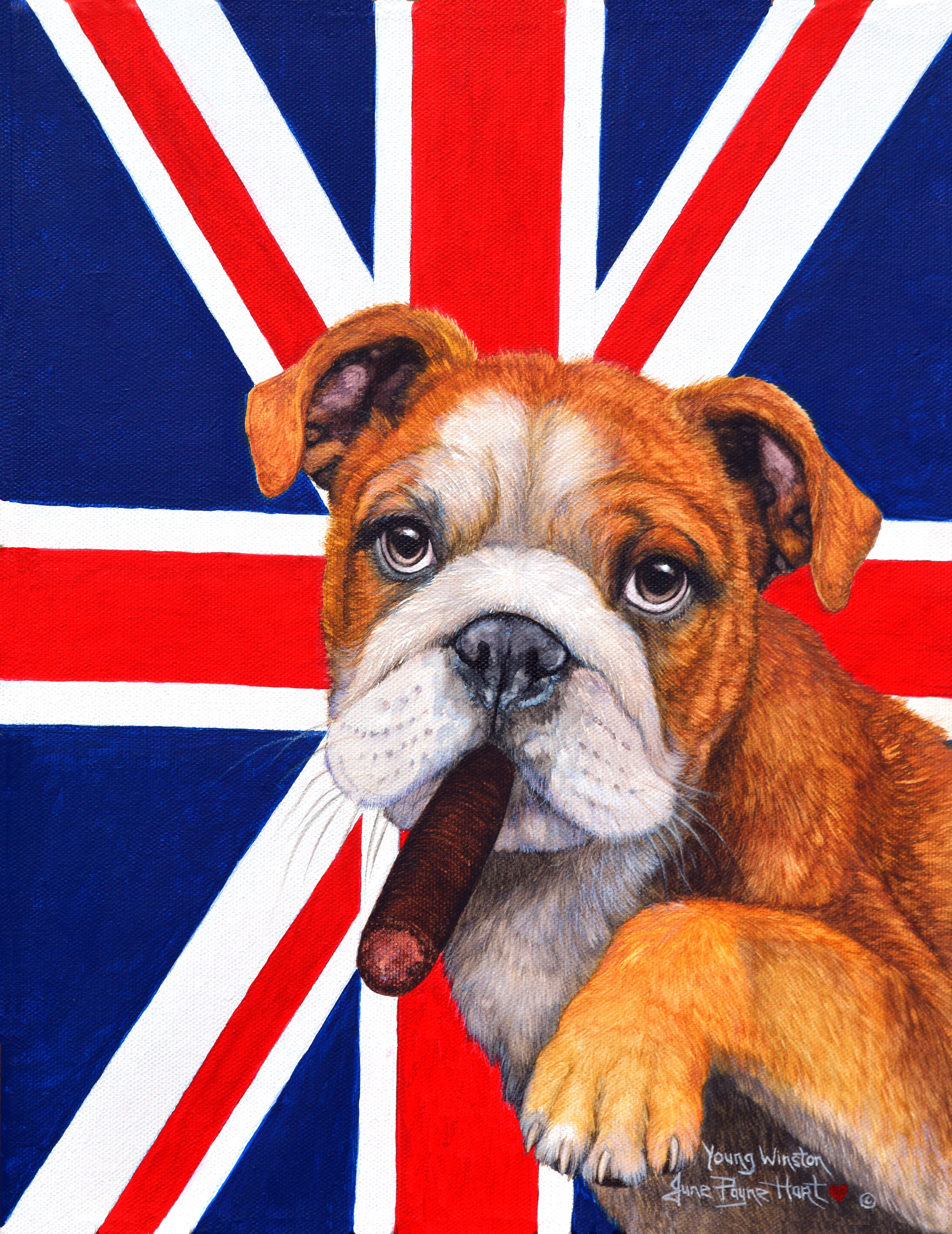 This painting titled " Young Winston" was painted in honor of Sir Winston Churchil , former Prime Minister of The United Kingdom during World War ll. The British Bulldog was representive ot the Britidh people during their most trying period of the nation. The cigar represented Sir Winston and his fondness for them.
Medium : acrylic on canvas
Size: 12" by 16"
$ 495.00

Ann Hathaways cottage - Stratford Upon Avon - England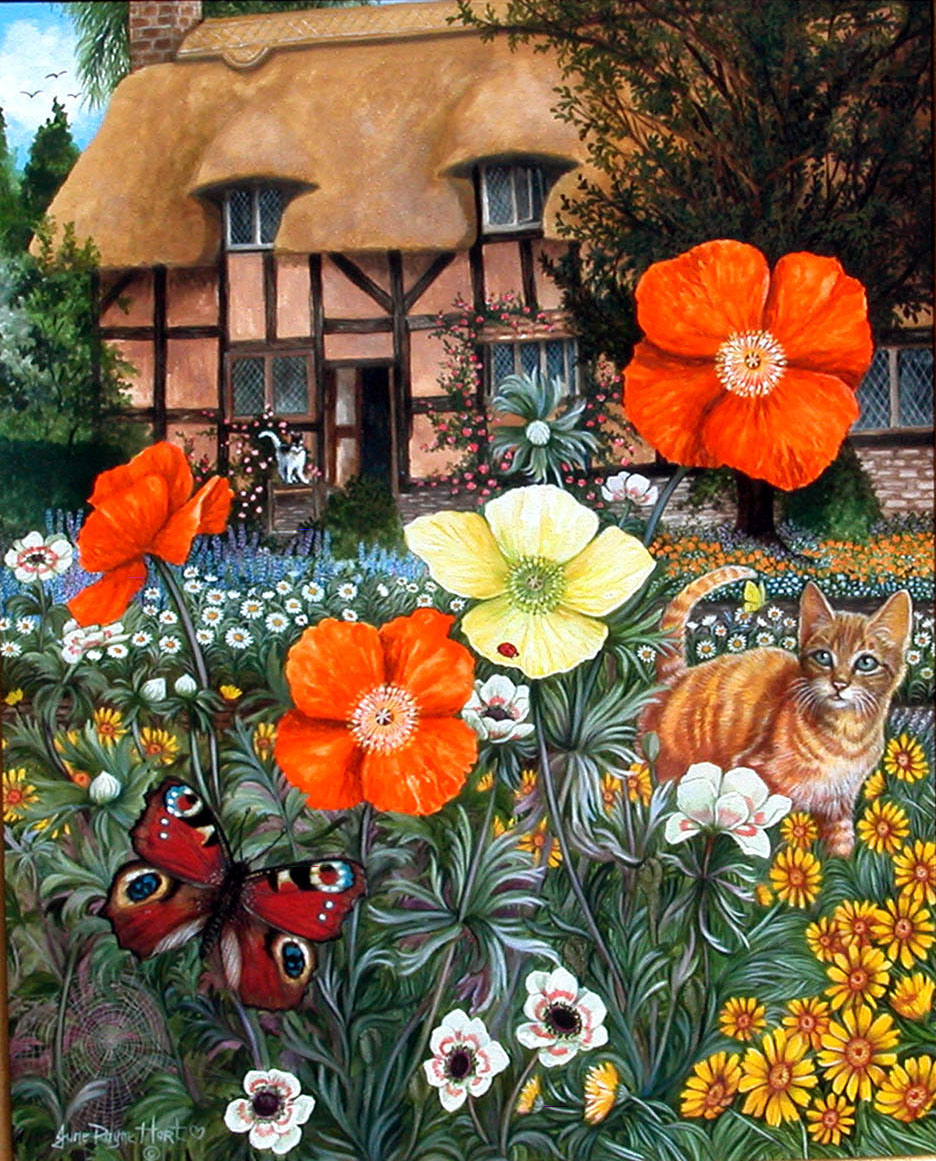 The Flowers of Stradford Upon Avon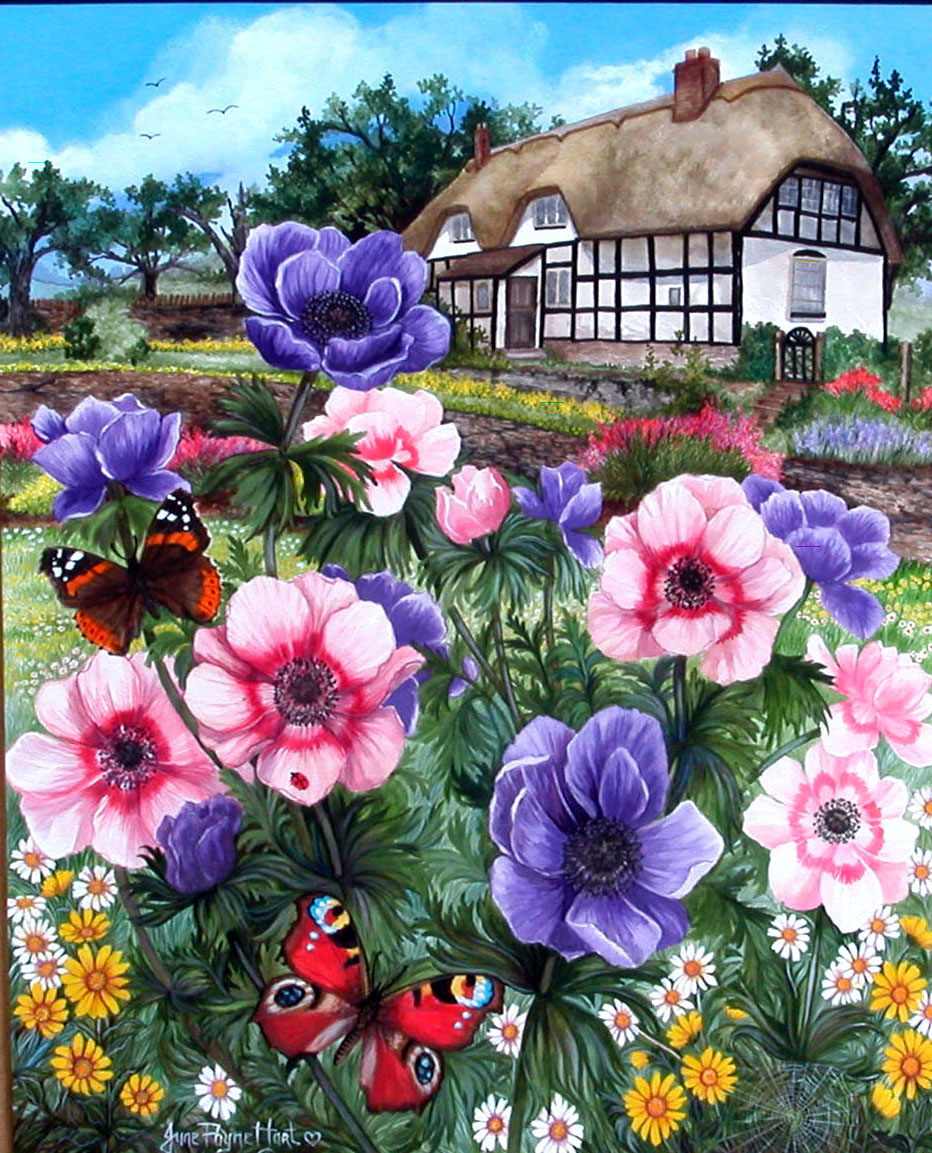 Coyotes of the Red Rocks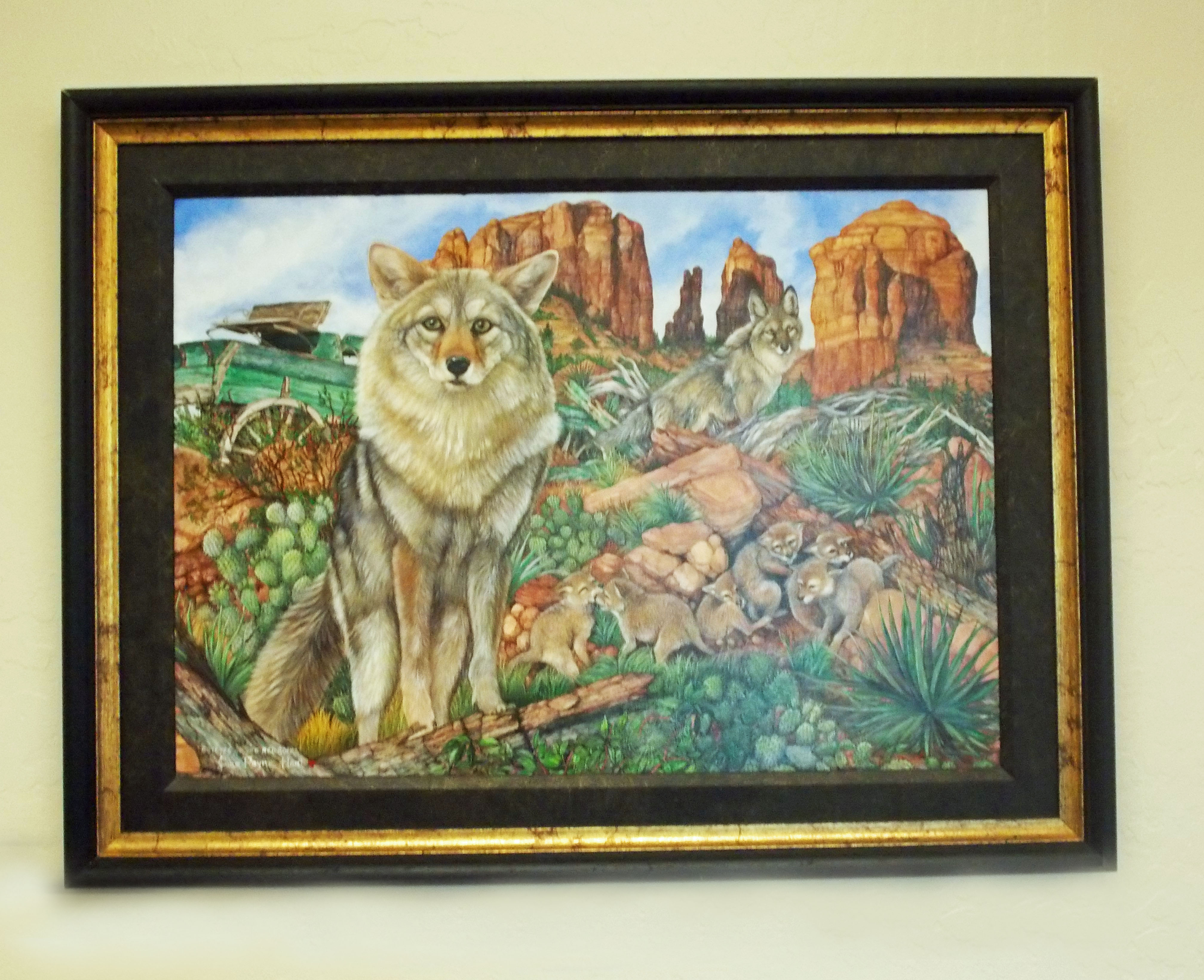 Framed picture






---
| Return Home | Monthly Specials | Shipping/Handling Services | Print Catalog | Order Page | Contact Us | Original Art available | Show & Event Schedule |